Большие пикапы провалили краш-тесты с малым перекрытием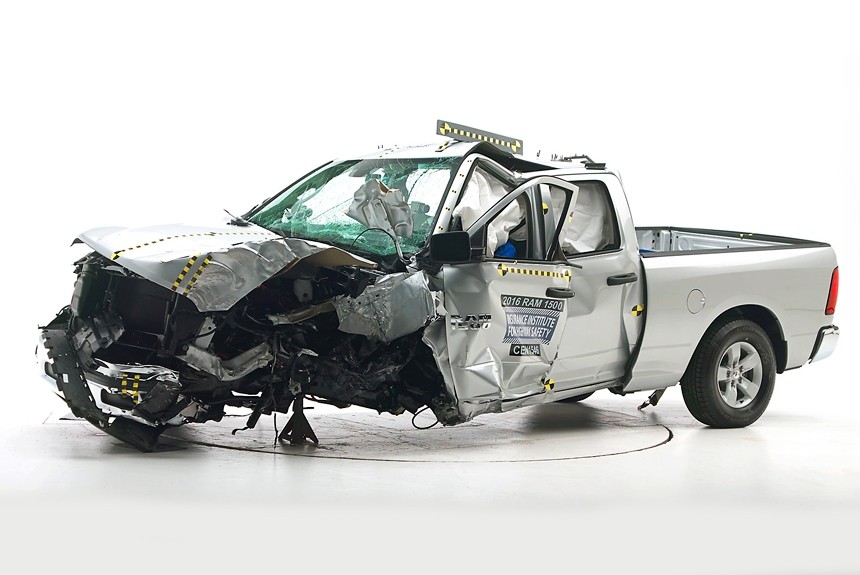 Американский Страховой институт дорожной безопасности (IIHS) провел очередную серию краш-тестов полноразмерных пикапов. Такие машины — самый популярный типаж в США: по результатам прошлого года первые три строчки в местном рейтинге продаж принадлежат пикапам Ford F-150 (780 тысяч штук), Chevrolet Silverado (600 тысяч, а вместе с близнецом GMC Sierra — 884 тысячи) и Ram (451 тысяча машин). И лишь на четвертом месте находится легковушка Toyota Camry (429 тысяч штук). То есть американский рынок больших пикапов почти в полтора раза больше, чем российский в целом.
Однако выглядящие несокрушимыми автомобили на деле оказались не так уж безопасны. На этот раз IIHS провел краш-тесты пикапов по полноценной программе, включая фронтальный удар с малым перекрытием (25%) и испытания систем автоторможения. А для полноты картины американские испытатели взяли не только грузовики с полноценными задними сиденьями, но и с так называемыми «полуторными» кабинами: задние двери у них укорочены, а на втором ряду сидений заметно теснее.
Поводом к такому масштабному тесту послужили прошлогодние испытания, когда выявилась существенная разница в уровне безопасности между пикапами Ford F-150 с двумя вариантами кабины: силовая структура «полуторной» версии SuperCab оказалась слабее, чем у машины с двухрядной кабиной SuperCrew. Поэтому для нынешних краш-тестов был взят доработанный Ford F-150 SuperCab, а компанию ему составили Chevrolet Silverado 1500, Ram 1500 и самый популярный из японских конкурентов — грузовичок Toyota Tundra. Все с двумя вариантами кабин.
Напомним, что IIHS оценивает результаты по четырехбалльной шкале: Good (хорошо), Acceptable (удовлетворительно), Marginal (на пределе допустимого) и низшая оценка Poor (плохо). Все машины заслужили наивысшие баллы за фронтальный краш-тест со стандартным перекрытием (40%), удары сбоку и сзади. А вот удар с малым перекрытием, имитирующий столкновение со столбом или деревом, на отлично выдержал только модернизированный Ford с усиленной кабиной. Chevrolet Silverado и Toyota Tundra с двойными кабинами заслужили итоговую оценку Acceptable, а их «полуторные» варианты и обе версии пикапа Ram 1500 оказались на пределе допустимого (Marginal).
Претензии ко всем пикапам, кроме Форда, — как под копирку: значительное (у моделей Ram — свыше 40 см!) смещение в салон педального узла и нижней части передней панели. Ноги манекенов пришлось с трудом извлекать из искореженных салонов — при реальной аварии это в лучшем случае грозит длительным лечением раздробленных голени, колена и стопы. Причем наихудшие последствия грозят водителям пикапов Ram 1500: силовая структура кузова у них разрушилась наиболее серьезно. А у других машин версии с двойными кабинами оказались прочнее «полуторных».
Любопытно, что только Рэмы провалили и тесты на прочность кабин при опрокидывании. При таких испытаниях специалисты IIHS давят стальной плитой на ребро крыши и измеряют усилие, при котором оно сместится на пять дюймов (127 мм). После этого вычисляется коэффициент отношения этого усилия к снаряженной массе машины: чем он выше, тем меньше автомобиль пострадает при опрокидывании. Для пикапов подобный тест особенно важен, ведь по статистике 44% аварий таких машин с летальным исходом — как раз с опрокидыванием. Виной тому нелюбовь к пользованию ремнями безопасности: согласно исследованиям, если среди американских пассажиров легковушек не пристегивается лишь десятая часть, то в пикапах — каждый четвертый. Оба пикапа Ram 1500 заработали в этом тесте оценки Marginal: коэффициент жесткости крыши машины с двойной кабиной равен 2,97, с полуторной — 3,15, тогда как для удовлетворительной оценки необходимо не менее 3,25.
Конечно, выводы экспертов IIHS наиболее актуальны для американцев. Однако и в Россию такие машины в небольших количествах завозят «серые» дилеры. Поэтому, если вы решились на покупку полноразмерного пикапа, стоит выбрать автомобиль с полноценной двухрядной кабиной. И остерегаться пикапов Ram.
Это видео недоступно.
Очередь просмотра
Очередь
YouTube Premium
GTA 5 Crash test – Chevrolet Silverado 1500 2010 v1.1

Хотите сохраните это видео?
Пожаловаться на видео?
Выполните вход, чтобы сообщить о неприемлемом контенте.
Понравилось?
Не понравилось?
Скачать модификацию (Download modification):
http://maniamods.ru/load/cars_for_gta.
https://yadi.sk/d/YFlrhLN-q9X4s – с подробной инструкцией по установке
Краш-тест модификации в виде полноразмерного пикапа Chevrolet Silverado 1500 2010 v1.1 для видео игры Grand Theft Auto V.
Описание:
– присутствуют сменные колёса, которые можно установить в Los Santos Customs
– детализированный экстерьер
– детализированный интерьер
– качественный 3Д двигатель
– качественное 3Д днище
– остаются пулевые отверстия
– открываются все двери и крышка моторного отсека
– на дверях присутствуют замки
– зеркала отражают игровой мир
– руль поворачивается
– перекрашиваются экстерьер, интерьер и колёсные диски
– стёкла тонируются, простреливаются, трескаются и разбиваются
– рабочие фары
– фары разбиваются
– неоновая подсветка отображается корректно
– экстерьер и колёса пачкаются
– экстерьер царапается
– качественные текстуры колёсных покрышек
– покрышки колёс прокалываются
– анимированная подвеска
– присутствует подсветка приборов на приборной панели
– присутствует подсветка стрелок спидометра и тахометра
– рабочие стрелки спидометра и тахометра
– персонаж корректно сидит на месте водителя
– руки персонажа обхватывают руль
– в автомобиле могут находится до четырёх персонажей
– вдалеке модель выглядет также как и вблизи
– корректное отображение текстур на модели после взрыва
Тестировался в версии игры 1.0.573.1
Автор 3d модели: Ivory Tower (The Crew)
Автор конвертера в GTA V: Dimon
EN (Description in English)
Author 3d model: Ivory Tower (The Crew)
Author converter in GTA V: Dimon
Для желающих помочь в развитии канала
Сбербанк 4276 1100 1185 2411
Райффайзен 4627 2914 7463 4615
Yandex 410011689365587
Qiwi +79178379869
Watch The IIHS 2016 Chevrolet Silverado 1500 Crash Comparison Test: V >18

by Sean Szymkowski
— Apr 15, 2016
Sponsored Links
Previously, we reported the Ford F-150 was the only pickup truck to receive a "good" rating in the frontal, overlap crash test, and the only truck to be awarded a "top safety pick" by the IIHS.
Fiat-Chrysler Authority has reported on the latest video finding, which show the F-150, Silverado 1500 and Ram 1500 all compete for the accolade. Good news: the Silverado fairs much better than the Ram, but the Silverado still lags behind the safety in the F-150.
The Ram, however, performs quite poorly. As seen in the video, the dashboard and pedals are pushed into the dummy, which would mean serious injury and possible entrapment in the event of a crash.
Also interesting is the difference between the crew and extended cab models, with the extended cab performing better for each truck. Watch the results for yourself above.
Sponsored Links
Sean is a lead staff writer for GM Authority. The words above are fueled by passion and large amounts of caffeine. Find him on Instagram: @helloimseann
Previous story Opel Mokka Wins Connectivity Award For OnStar System
Next story Irmscher Is Set To Infuse The Opel Adam With German Racing Heritage
Sponsored Links
Sponsored Links
The problem I see with these crash tests run by the insurance institute is the thing they run the vehicle into is an immovable, stationary object. Take a 3 ton vehicle and the laws of inertia apply. The ass-end of the vehicle catches up to the front. However, if I took my 3 ton/6,000 lbs. Suburban and had a left front-to-left front crash with a econ-box, that econ-box is moving…..backwards, with severe damage. I'm sure another one of Newton's laws applies here. I walk away from the crash, not so much for the econ-box driver.
They are testing for the WORST CASE scenario of a crash in all the vehicles they test, not the most likely scenario.
Obviously, the vehicles would perform better in a test with a deformable barrier or one that is on wheels, but then what would be the point of that test? It wouldn't show the absolute limits of the Suburban's crash performance, the very attribute that the structural engineers need to show for in a test. Consumers want to see the worst kinds of crashes a car can endure and to see it's star rating. The thinking goes that if it can withstand that kind of abuse in a controlled setting, then running a Suburban into a Sonic shouldn't be a problem.
You may feel confident in a Suburban in a 25% overlap crash with a Sonic, but I don't think you'll have the same confidence with a concrete bollard or a Freightliner.
Mike, I see what you are saying, but all accidents are not with other vehicles. An accident could be with a tree, bridge pillar… all stationary items. So all accidents are not relegated to accidents with other vehicles only. Chevy, Toyota, and especially FCA have some work to do!
Time for General Motors to get serious.. as in recent months we've seen GM vehicles get redesigned using the latest engineering techniques to make them bigger while lighter; it's time that GM spends the supercomputer time to make their trucks structurally safe or they risk having Ford hit them over the head with this fact in their commercials which could impact sales.. because what good is a steel truck when it acts like toilet paper in a crash.
At the risk of sounding like a
socialist (!), you could make a case for safety being the most important info vehicle makers share with each other.
MPG, payload, towing capacity, curb weight, technology, price, etc., provide plenty of room to compete –
Crash- worthiness and safety is kind of an insidious advantage, when you think about it. Ya, Volvo built their business on it.
But there's an oppty for GM to take a leadership position, undo some past suppositions, and take the lead to make safety an open forum.
Crazy, I know. But there's plenty to compete about without safety being part of the equation.
Let the downvotes begin! ?
No downvote from me. I think that you are correct – all other elements are important features but if your vehicle kills you why care if it has more power?
The fact is they all know pretty much the same thing. They all do the same test and have the same data.
What it comes down to is who has the newest platform. The newest platform generally always wins. It is not steel, it is not aluminum and it is not stiffness. What determinds the outcome is engineering and that comes with each and every new platform new data is applied.
The Ford is all new so it is expected they would do a little better. As for the Chevy it was updated but still pretty much based on the past platform as that is why we will see a new truck around 2018.
The Ram is very old. it has had some updates but not a complete new platform for a while and it is showing.
Note too that some of these test have been added and or changed since the Ram has come about. They Alter the test to make them tougher as the truck have gotten better over the years. They used to have an offset test but now they are just catching the outside. The deformation of the frame and body determine penetration into the cab as you can see with the Ram.
Most of these deflections can not be done unless you redesign the whole structure in a new platform.
For when they went to aluminum had to change everything as the aluminum has different needs in a crash and they had to engineer it to collapse in the right order and deflect in the right directions.
The other issue is you do not want it too stiff and not collapse as you will break the necks of everyone inside.
The IIHS do all they can to break these vehicles to find the weak areas. Most test are over the top but that is how you find the weak areas. Also they like to play the agenda publicity card too. They love to make big deals out of major issues as well as minor issue. To be honest they do a service but also their cry wolf issue at times also hurt them. I wish they would play it straight and better inform people of the how and why's so they would better understand the results where.
Putting a scare into people is how they thrive legit or not.
Anyways watch GM will have the next new half ton and it will be the top dog till Ram replaces there and then Ford theirs.
The fact is anymore size does not always matter in crashes as much as it once did. Newest generally matters most but the laws of nature always are around to prove us wrong too.
Scott, GM should not wait until 2018 with the redesign–needs to be addressed now!
2015 Ford F-150 had some issues passing the test and they corrected for 2016. No reason why GM can't have resolved next year or 2017 at the latest.
Martin it all depends on what they have to fix. If it is a simple fix then it will be sooner. From what I heard the Ford fix was simple.
Now if it is a major fix then it has to wait till they have the money and man power scheduled for the new platform that takes 5 years to develop and no way of making it come any sooner.
Cars and truck like this are not always like a race car where you can just weld in a new part to the cage.
Some times it is a simple fix adding a new bar to the frame to deflect and other times it takes a whole new frame and body structure.
One thing to keep in mind too the GM and Ford trucks did not get any worse. They are the same 5 star rated trucks that we had last year and the year before. But as like the Camaro one upped the Mustang in performance the Ford truck being all new just one upped everyone else.
These vehicles did not get worse and are far from a death trap. As time goes on and with new computer simulations more is learned and better performance is found be it HP or crash test results.
As of now the sky is not falling and generally trucks are a very loyal fan base. Hell The small Toyota's were rusting in half in 8 years a few years ago. They were breaking in half as I know someone it happened too. It was a well known problem and much more extreme than a crash test that simulates a rare type of crash, Most are more on center and it takes even more impact. Notice how they just catch the edge. They used to test at the half way mark and reduced the crumple area.
Besides the Chevy did not get a poor rating it got acceptable and that in its self is not a black mark.
Martin you really need to put this into perspective of all that it takes to make changes and understand the standards used and just what it would take to make these changes.
That is unless you are an engineer and could explain how simple, easy and fast it would be to re engineer.
And I mean an Engineer with a degree not an internet engineer.
The small overlap test is what is shown and discussed in the video. IIHS has only introduced this test since 2012. The test involves a 40mph collision into a 5ft tall stationary barrier with only the outer 25% of the width striking the barrier.
When you think about it, the inertia of the entire truck is partially absorbed by the front wheel and suspension system with much of the force transmitted to the cab. It largely bypasses the front frame rails on older vehicles. The cab has to be exceptionally strong to absorb and/or deflect the impact.
These tests are designed to simulate reasonable worse case scenarios (and rightly so). However, it is important to take that into account when evaluating the overall vehicle safety. All of these are safe vehicles – even the Ram. As Scott3 alluded to, the Ram chassis was designed before the slight offset tests were implemented. These safety expectations are being raised continually. All are safe trucks, the Ford is just the safest as measured by the IIHS. Just wait until the IIHS designs another test that the manufacturers haven't designed for. It doesn't make the older vehicles any less safe – it just raises the bar to make the next generation autos even better.
You are very correct and informed.
The offset test I think used to take 50% of the truck and now 25% as you stated. GM did some upgrades but not en entire new truck, Most of the upgrades were interior and styling with some suspension mods.
You put this into very good perspective.
The thing I don't get is, if you look at the small over lap crash test, the one they are talking bout. How does the Ext GM truck get a lesser rating then the ext cab F150, because under the Technical measurements on the GM trucks Ext cab you have 0% of Knee-thigh-hip injury risk compare to the 1% in the F150. If any thing beef up the GM crew cab as it has a 2% risk of Knee-thigh-hip injury compare to 0% with the crew cab F150.
Again right from IIHS site, how can the Ext cab F150 get a better rating when you have a higher % of being injured?
This has got to be the biggest waste of time, energy, and money! The safety rating of a vehicle is complete garbage. I have never given these reports 1 once of interest. These test do nothing but make these vehicles more expensive, and heavy with more and more government mandate items that must be involved.
When ever I am at a dealership and a salesman starts talking about how safe this car or truck is I just walk away.
The message that needs to be sent to the public is not hey let's build tanks that can survive any crash, lets teach the driving public a way to stop getting into accidents! I am 43 years old and I have never been in anything other then a minor fender bender. If these major crash stopped the public wouldn't need the manufacturers to even focus on safety.
Not really. I am not a big fan of how the IIHS does so much self agitation here but they have driven companies to try harder and keep reaching for more durability.
Companies really strive for the 5 star ratings and it has shown how much better cars are. Now GM is working to make them lighter but also stronger. This makes not only for safer but better MPG and better handling as a stiff structure is best for handling. The new Camaro is proof of both lighter weight and stronger structure working so well.
it not because the truck is stronger ford add a little steel bar in a front and back of the wheel the front peace is job is to broke the wheel and the seconds one change the trajectory of the wheel so he didn't go inside the cab . it's the front wheel damage the cab not because gm have a bad frame good ex look Ford last years test crew cab did better compare to extended cab ,,now they add this steel bar I think in the extended cab this I think why Ford did a better test.
Yes there was a steel bar added to the Fort that fixed their issue. Some problems are easily resolved but others like the Ram may take a entire new vehicle as the test are much tougher since they introduced that truck.
Now all we have to see , Is the information on cost to repair each vehicle from this Insurance organization . I am not talking these particular vehicles because i would say they were totaled, but the repairable ones.
Just a quick question: will the 2017 Camaro ZL1's motor come with the dry sump lubrication system as found in the Z/06? Hopefully the answer is yes!
Thank you.
NK – ELEFANTE (Official V >
Показать панель управления
Опубликовано: 25 окт 2020
NK – ELEFANTE (Official Video)
Suscríbete a mi canal/Subscribe to my channel: ruclip.com/user/nkofficial
Disponible en todas las plataformas digitales/Available on all digital platforms: nk.fanlink.to/elefante
Director: Leonid Kolosovskyi
_________________
Redes / Socials:
Instagram: kamenskux
Facebook: nkofficialcom
Website: nkofficial.com
TikTok: vm.tiktok.com/a94eMd
NK – ELEFANTE:
Un elefante
Muy elegante
La trompa muy larga
la trompa gigante
Uuuuu
Muy larga
Uuuu gigante
Let me take you to a zoo
Zoo zoo zoo zoo zoo zoo
Seré tu pantera negra
Look at you look at you
Estarás conmigo alegre
Te llevaré a la jungla
Jungla la la la la la la
Vamos a jugar sin ropa
La trompa pa pa pa pa
La trompa pa pa pa pa
Ой летіли ми на тусу
I like the way you do it
Me gusta
Ой летіли з України
Stop
No seas tan adusto
I need you love
Esta noche
Hagámoslo
En tu coche
Entremos en el bosque
Donde está muy oscuro
Es muy duro?
No les tengo miedo a los grandes troncos
No tengo miedo de recoger hongos
No les tengo miedo a los chicos rudos
Quita quita quita tus escudos
Mira me
Mira mira mira
Siente me
Y escucha sin mentiras
Rain forest
No estoy sola
Feel the tropical love
Tenemos cuatro horas
I like the way you move la trompa
Feel the rhythm of jango bongo
I like the way you kiss la boca
Lets play the game of love nos toca
________________
Booking: booking@nkofficial.com, +38 063 389 02 55
PR: pr@nkofficial.com, +38 067 247 92 35
_________________
Official Music Video by NK performing "Elefante"
© 2020 NICE2CU
#NK #ELEFANTE
Комментарии • 12 301
Chicos, ¿qué tal les parece el vídeo? ¿Qué personaje les ha gustado más? ¡Dejen sus comentarios!
Son 2:58min de mi vida que jamás recuperare la peor inversión de tiempo no entendí un carajo de tu canción y tengo título universitario lo le encuentro ritmo ni lógica a la letra y el contenido visual es estupido e infantil este video es una manera práctica de caer en coma o sufrir un derrame cerebral
NKofficial мені так жалко шо тебе так обляли лайном, таке продається в Америці а у нас Настя лбди ще не доросли. Guapa ánimos y no les hagas caso, tu si que puedes
Que pendejada de cancion y video asco
Atrás quedaron los tiempos en que la música era música no este puto asco. No es ni música, si querían que fuera sugestivo lo es, pero tan vulgar y sin sentido.
Мне понравилось я кайфанула)
Почему английский, Тебе русского и украинского мало?
☝️
Насте и блондой хорошо!
Если звук выключить, то найс
Кто из 2020 лойс
Весь клип смотрел и боялся увидеть Потапа в стрингах
La trompa muy larga,la trompa gigante. que es esto?madre mía que vergüenza
*СТАВЬ ЛАЙК, ЕСЛИ У ТЕБЯ В ИМЕНИ ЕСТЬ БУКВА А*
*Оцените мои ролики :З*
Для меня как для человека который знает испанский, это было ужасно
Ну и хуйня как же все плохо
Образ с латексом слизан с Кендалл Дженнер..
Por aquí amigo latino , al fin otro comentario en español
Dejen ustedes los comentarios raros la canción y el video estan bien maníacos
Chale. Mejor me voy a escuchar The beatles xd
После песен: Обіцяю, Ме густа, Это моя ночь, У мамы» надо же постараться снять такое дерьмо под названием Элефанте.
Нууу былаб только Настя и чувак с хоботом былоб не так отварачиваюше
Давайте на Евровидение от Украины с этой песенкой.
Un elefante
Muy elegante
La trompa muy larga
la trompa gigante
Uuuuu
Muy larga
Uuuu gigante
Let me take you to a zoo
Zoo zoo zoo zoo zoo zoo
Seré tu pantera negra
Look at you look at you
Estarás conmigo alegre
Te llevaré a la jungla
Jungla la la la la la la
Vamos a jugar sin ropa
La trompa pa pa pa pa
La trompa pa pa pa pa
Ой летіли ми на тусу
I like the way you do it
Me gusta
Ой летіли з України
Stop
No seas tan adusto
I need you love
Esta noche
Hagámoslo
En tu coche
Entremos en el bosque
Donde está muy oscuro
Es muy duro?
No les tengo miedo a los grandes troncos
No tengo miedo de recoger hongos
No les tengo miedo a los chicos rudos
Quita quita quita tus escudos
Mira me
Mira mira mira
Siente me
Y escucha sin mentiras
Rain forest
No estoy sola
Feel the tropical love
Tenemos cuatro horas
I like the way you move la trompa
Feel the rhythm of jango bongo
I like the way you kiss la boca
Lets play the game of love nos toca
Это ахуеннооо,ахахах Очень прикольно и необычно,лично у меня в голове играет эта мелодия уже.Молодцы)
Если не смотреть клип и не знать перевода, то песня заедает. Я уже час пою: Елефантееееееее
Так красочно, не знаю от куда эеи коментарии , Nicki Minaj ,Cardi B и в принцыпе еще мноого других американских звезд,записывают песни с подобным текстом,а клипы намноогоо пошлее,ну время сейчас такое. Как по мне ,очень сочно ,очень красочно)
Жопа у Насти конечно клёвая,а клип гавно:)
Предистория клипа
-а давай накуримся и снимем клип
-хмм хорошоя идея, давай
Когда я увидел это на первом месте в тренде я подумал что это иностранный клип
Всегда уважительно относилась к творчеству НК, но этот опус неуважение к своим поклонникам. Тошнотворное видео
Источники:
http://www.youtube.com/watch?v=rkPxVk8UMno
http://gmauthority.com/blog/2016/04/watch-the-iihs-2016-chevrolet-silverado-1500-crash-comparison-test-video/
http://ruclip.com/video/XVvHkNEyn4o/%D1%88%D0%B5%D0%B2%D1%80%D0%BE%D0%BB%D0%B5-%D1%81%D0%B8%D0%BB%D1%8C%D0%B2%D0%B5%D1%80%D0%B0%D0%B4%D0%BE-1500-%D0%B1%D0%BE%D0%BA%D0%BE%D0%B2%D0%BE%D0%B9-%D0%BA%D1%80%D0%B0%D1%88-%D1%82%D0%B5%D1%81%D1%82-2010-chevrolet-silverado-1500-side-crash-test.html
http://chevroletov.ru/test-drive/sonic2/490-test-drayv-chevrolet-sonic-2012.html