Новый Jeep Wrangler внезапно провалил краш-тест (видео)
Поделиться
Авторитетная организация EuroNCAP опубликовала результаты испытаний сразу девяти новинок нынешнего года. Почти все они продемонстрировали высокий уровень безопасности, за исключением Jeep Wrangler. Но компактный Fiat Panda умудрился переплюнуть даже этот внедорожник.
Новому американскому внедорожнику досталась всего одна звезда из пяти в рейтинге безопасности EuroNCAP. Эксперты по итогам краш-теста отметили слабый уровень защиты грудных клеток передних пассажиров – в основном, опасность представляли элементы конструкции передней панели.
Не слишком эффективно Wrangler оберегает и пассажиров-детей. При этом уровень защиты головы взрослых при фронтальных ударах и области шеи при ударе сзади был оценен, как хороший.
Однако, главные претензии испытателей к внедорожнику состояли в отсутствии основных систем активной безопасности: их ассортимент для Jeep Wrangler на европейском рынке был признан явно недостаточным. По сути, внедорожник набрал только треть баллов из возможных в этой категории.
Что касается еще одного аутсайдера этой сессии – Fiat Panda – то его результат оказался слегка шокирующим: ноль звезд из пяти. Основные претензии к хэтчбеку также состояли в невозможности оснастить его современными водительскими ассистентами. По сути, Panda располагает только сигнализатором непристегнутого ремня безопасности, да и эту функцию эксперты оценили на 1 балл из 3 возможных.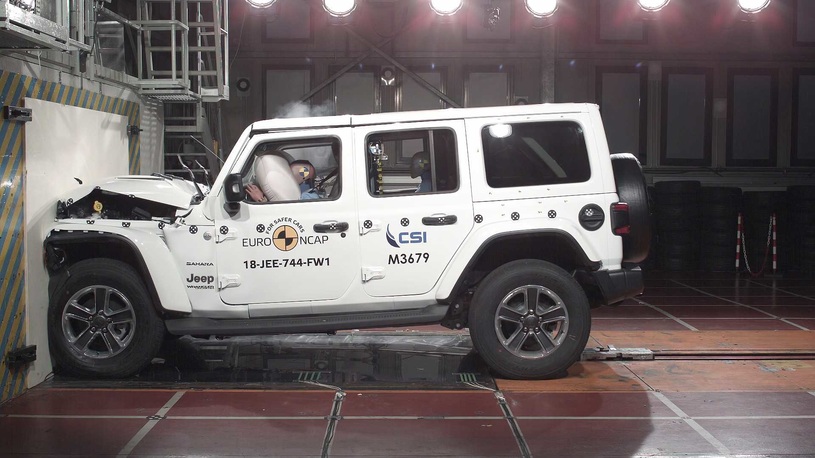 Что касается защиты при столкновениях, то у взрослых пассажиров "Панды", находящихся на передних сиденьях, с высокой степенью вероятности пострадают грудные клетки, головы и голени. Не спасет Panda и от хлыстовых травм позвоночника при ударе сзади.
Помимо двух вышеперечисленных моделей, в испытаниях приняли участие такие новинки, как Audi Q3, BMW X5, Hyundai Santa Fe, Jaguar I-PACE, Peugeot 508, а также Volvo V60 и S60. Все они получили пятизвездочный рейтинг, хотя и не без замечаний: например, у Hyundai Santa Fe и BMW X5 была отмечена некорректная работа подушек безопасности. В EuroNCAP заявили, что Hyundai уже приняла информацию к сведению и готовит отзывную кампанию.
2013 Jeep Wrangler Rubicon 2-Door Review & Test Drive
'THE KING OF OFF-ROAD WARRIORS'
You can go deep when you are piloting the Jeep Wrangler, and even deeper toward your off-road destination in the Rubicon. In fact the Rubicon model has successfully traversed the nearly impossible Rubicon Trail in the Sierra Mountains just north of Sacramento. This Trail Rated model has no foes when it comes to trail busting off the road. While it's off-road prowess in world renowned, the interior is more civilized, comfortable and high-tech as any other sport utility model on the market.
New for model year 2013 includes an easy-lift top mechanism and anew premium material soft top. Wrangler also adds comfort and convenience features with new more comfortable and supportive seats, auto-dimming rearview mirror with LED map lighting, new interior lighting, dual windshield washers to better clear off debris, available Alpine speakers and a premium Tire Pressure Monitoring System. For the 2013 model year, engineers for the Jeep Wrangler-the most capable and recognized vehicle in the world-focused their attention on interior ergonomics and 4X4 capability. The goal was to make Wrangler even more enjoyable and comfortable on a daily basis from the inside out while continuing to improve its off-road ability.
With the introduction of the all-new powertrain for 2012-a 3.6 liter, all-aluminum V6 engine with DOHC and VVT generating a trail-busting 285 hp and 260 lb.ft. of torque mated to a 6-speed manual or 5-speed automatic with AutoStick sequential shifting, Wrangler features improved on-road performance combined with even more off-road prowess. Now, with new features added to the interior, the 2013 Wrangler adds improved comfort to its long list of benefits. The result is an untouched level of capability off-road, combined with on-road dynamics, fuel efficiency and interior comfort that make Jeep Wrangler the perfect vehicle for fun daily driving, weekend trail-running or extreme off-road wheeling.
Passengers are now greeted by new front and rear seats. Re-contoured and with larger side bolsters, these seats are comfortable for long drives while offering more support for sporting off-road activities. Interior courtesy lighting is now found under the instrument panel as well as the cupholder areas for front and rear passengers. An auto-dimming electro-chromatic mirror is standard on all models and will feature LED map lights for front passengers. The optional premium tire pressure monitoring system can give direct read-outs for each individual tire. The Rubicon receives a new optional wheel design-an aggressive 17 in. 10-hole alloy wheel with polished accents and a mid-gloss gray painted inner face. My new Wrangler Rubicon came equipped with the beefy B.F. Goodrich LT255/75R17 in. T/A Mud Terrain Baja Champion tires with 3-ply sidewalls for extra strength off-road.
The 2013 Jeep Wrangler delivers unmatched off-road capability with legendary four-wheel drive and is produced with more than seven decades of 4X4 engineering experience. Wrangler continues to offer a body-on-frame design, front and rear five-link suspension system, live axles, electronic lockers, four-wheel vented power assisted brakes, and is one of the few mid-size SUVs that offers a six-speed manual in addition to its five-speed automatic transmission.
The Jeep Wrangler is available with several axle gear ratios allowing customers to optimize fuel economy and/or vehicle capability. Wrangler is available with 3.21, 3.73 or 4.10 ratios depending on model. Also, Wrangler offers towing capability up to 3,500 lbs.
The Wrangler Rubicon that I tested features heavy-duty Dana 44 front and rear axles and the Rock-Trac NV241 two-speed transfer case with a 4.0:1 low range gear ratio. Rubicon also includes electric front and rear locking differentials, disconnecting front sway bar and 32 in. tires wrapped with 17X7.5 in. alloy wheels all taking the Wrangler Rubicon to the highest level of capability.
The interior combines rich styling, versatility, comfort and intuitive feature use. Highlights include automatic temperature controls, heated seats, steering wheel controls for vehicle systems, dual cupholders, storage bin and armrest, dual map lights, storage bin above the center stack, variable speed wipers/washers, and thick cut-pile carpeting. The large rear windows are engineered for greater visibility. A USB port connects to the media center, a 12-volt accessory outlet. Standard features in the Rubicon not mentioned above includes A/C, Media Center, 368-watt 7-speaker Infinity sound system with subwoofer, audio jack input for mobile devices, Sirius satellite radio, temperature/compass heading, tilt/leather-wrapped steering wheel, reclining front bucket seats with height-adjustable driver's seat, giant grab handle above the glove box, rear fold-and-tumble seat, rear compartment covered storage, instrument cluster with chrome rings with more chrome rings around the steering wheel center, switches and dials. Front floor mats round out the new up-level interior.
Optional equipment in my Rubicon Wrangler included connectivity group, remote USB port, electronic vehicle information display, Uconnect voice command with Bluetooth, power/heated sideview mirrors, remote keyless entry, power one-touch windows/door locks, security system, hill descent control, body-color 3-piece hardtop, body- color fenders, freedom panel storage bag, rear window defroster/wiper/washer, tinted rear quarter and rear flip-up windows, media center 430N SAT/CD/DVD/MP3/HDD/Nav system with 40GB hardrive, with 28GB available storage, 6.5 in. touch screen display GPS navigation.
The Jeep Wrangler Rubicon features the signature classic round headlamps, seven-slot grille, trapezoid wheel flares, removable doors, exposed hinges, a fold-down windshield and innovative removable and convertible tops and half doors that allow the Wrangler to retain the brank's iconic appearance and function, plus the 4X4 Trail rated badge on the driver's-side and the Rubicon graphic on the side of the hood. The exterior also includes side rock rails, swing-out rear door with flipper glass and holding the full-size spare tire, dual front tow hooks/single rear tow hook, transfer case skid plate shield, cruise control, fuel tank skid plate shield and front skid plate shield.
Standard safety systems include traction control, hydraulic brake assist, advanced multi-stage front airbags, electronic stability control, four-point roll bar, 3-point seatbelts with front pretensioners/load limiters, and electronic roll mitigation.
Built on more than 70 years of legendary heritage, Jeep is the authentic SUV with class-leading capability, craftsmanship and versatility for people who seek extraordinary journeys. On road or way off-road, if you want to go deep do it in a Jeep!
Jeep Wrangler получил 1 звезду в краш-тесте Euro NCAP
Новый внедорожник Jeep Wrangler внезапно для всех провалился на независимом краш-тесте Euro NCAP, хотя и выступил лучше компактного хэтчбека Fiat Panda.
Новый месяц — новая часть независимых краш-тестов Euro NCAP. Независимая организация на сей раз провела испытания 9 новых моделей, среди которых оказались Audi Q3, BMW X5, Hyundai Santa Fe, Jaguar I-PACE, Peugeot 508, Volvo V60 и S60. Все эти модели получили 5-звёздочный рейтинг, что предсказуемо, а вот Jeep Wrangler и Fiat Panda удивили.
Первая неожиданность — единственная звезда у нового Jeep Wrangler, в основном из-за отсутствия современных систем активной безопасности. Внедорожник оснащён только напоминанием о непристёгнутом ремне безопасности и простым ограничителем скорости. Ну а фронтальыне и боковые подушки безопасности особой роли в тесте не сыграли.
Галерея: December EuroNCAP crash test
Но гораздо хуже дела обстоят с Fiat Punto. Хэтчбек стал всего второй моделью в истории Euro NCAP, которая получила 0 звёзд. Первой, кстати, провалившей краш-тесты машиной в 2017 году стал Fiat Punto. В основном поводом для недовольства стало полное отсутствие систем активной безопасности кроме предупреждения о непристёгнутом ремне.
У остальных машин хоть и по 5 звёзд, но не все они идеальны. У Hyundai Santa Fe существует риск разрыва боковых подушек безопасности на версиях с панорамной крышей, а у BMW X5 проблемы с правильным срабатыванием коленного айр-бэга.
Читать ещё:
Today, Euro NCAP releases the safety ratings of nine cars. The Audi Q3, BMW X5, Hyundai Santa Fe, Jaguar I-PACE, Peugeot 508, Volvo V60 and its partner, the S60, all achieve a maximum five-star rating. However, two FCA vehicles – FIAT's aging Pandaand Jeep's all-new Wrangler – get zero stars and one star respectively.
The Panda, last tested by Euro NCAP in 2011, has now been comprehensively overtaken by rival superminis in the race for safety. With nothing more than a seatbelt reminder scoring points in Euro NCAP's Safety Assist box, the vehicle fails to reach even a single star, a dubious distinction matched only by the Punto in 2017.
In contrast, the four-wheel drive off-road Jeep Wrangler is an all-new vehicle, fresh to the market in 2018. With a seatbelt reminder and a simple driver-set speed limiter but no other form of driver-assistance system, the Wrangler clears the one-star threshold but lags far behind its competitors.
Michiel van Ratingen said,
"It is truly disappointing to see a brand-new car being put on sale in 2018 with no autonomous braking system and no lane assistance. It is high time we saw a product from the FIAT-Chrysler group offering safety to rival its competitors."
But even some five-star vehicles had problems. Euro NCAP's tests on the Hyundai Santa Fe highlighted an issue where the side curtain airbags of cars equipped with a panoramic roof could be torn during deployment. In response, Hyundai has already changed the airbag fixings in production and early cars are subject to an official recall. Owners of such vehicles will be contacted by the manufacturer and should make sure they take their cars to dealers to be re-worked.
The BMW X5 also suffered from airbag problems, the driver knee airbag not deploying correctly in the frontal offset test and providing little additional protection to the driver's legs. A similar issue was seen with the 5 Series in 2017.
Michiel van Ratingen, "Despite the work done by manufacturers during the development of their vehicles, Euro NCAP still sees a lack of robustness in some basic areas of safety. To be fair, the Audi Q3, Jaguar I-PACE, Peugeot 508 and Volvo V60/S60 have set the standard against which others are judged this time, and other manufacturers could do well to follow their example. The I-PACE, especially, demonstrates that future vehicles will be good for the environment but also provide high levels of safety".
Источники:
http://www.automotiveaddicts.com/34253/2013-jeep-wrangler-rubicon-2-door-review-test-drive
http://ru.motor1.com/news/286589/jeep-wrangler-poluchil-1-zvezdu-v-krash-teste-euro-ncap/
http://kiarioinfo.ru/test/krash-test-kia-rio.html